Overview
Take control of your career. At Schwan's Home Delivery, we offer a variety of positions in our warehouses that give you the opportunity to own your day with minimum supervision. As a member of our depot team, you will be responsible for the daily aspects of loading, fueling and preparing the delivery vehicles, in addition to maintaining a safe and clean work environment. Opportunities on our mail order team include managing packaging and shipping of product direct to consumers.
Full Time/
Part Time
Overnight &
Day Shifts
Paid Weekly
Competitive Hourly Wage
Success Profile
What do you need to be a successful Material Handler at Schwan's Home Delivery?
Trustworthy
Independent
Multi-Tasker
Problem Solver
Self-Starter
Detail-Oriented
A variety of opportunities await - Start Here. Go Far.
Depot Team



• Part-Time Material Handler

• Full-Time Material Handler

• Sr. Material Handler

DO NOT FORGET TO ADD ACCESSIBILITY TEXT

Mail Order Team

• Seasonal Material Handler


• Full-time Material Handler

• Warehouse Supervisor

DO NOT FORGET TO ADD ACCESSIBILITY TEXT

Route Sales Team



•Route Sales Representative

•Service Operations Specialist

DO NOT FORGET TO ADD ACCESSIBILITY TEXT

Area Manager

DO NOT FORGET TO ADD ACCESSIBILITY TEXT

Zone General Manager

DO NOT FORGET TO ADD ACCESSIBILITY TEXT

Operations Leadership: Logistics, Fleet Warehouse

DO NOT FORGET TO ADD ACCESSIBILITY TEXT

Division Vice President

DO NOT FORGET TO ADD ACCESSIBILITY TEXT
Trending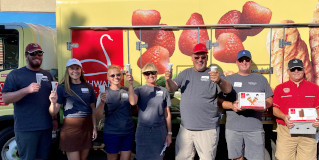 Meet Our Leaders
Meet the leaders charged with delivering extraordinary experiences, lasting relationships and outstanding food to America's tables.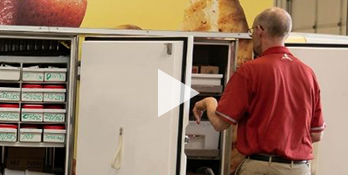 Click image to play video
Engaging Careers.
Discover Your Opportunity.
At Schwan's Home Delivery, we are committed to safely providing quality products direct to our consumers' homes offering a great experience for employees and customers across the country.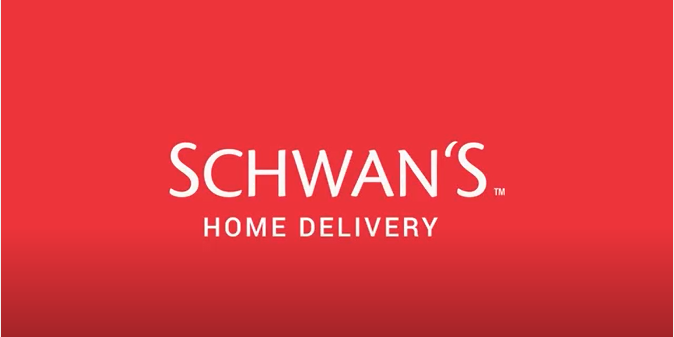 Click image to play video
Our Inspiration -
Our Mission, Vision and Values
We are passionate about our culture both internally and externally in the communities we serve around the country.
Benefits
We believe everyone does their best work when they are inspired to achieve and recognized and rewarded for their efforts. That's why we offer a competitive Total Rewards package that meets the needs of today's employees. From our 401(k) program and various health and wellness offerings to holidays off, our hands-on training and career development, we provide the benefits you need to keep growing and advancing in your life and career.
Compensation

Competitive hourly rate, paid weekly, paid holidays & vacation

Healthcare

Full time positions offer medical, dental, vision, and several HSA and FSA options

Health, Wellness & Safety

Access to online tools for physical and mental wellbeing; $0 copay on mental health office visits with insurance

Great Perks

Employee discount of 20% off plus an additional 20% off in reward points with an online order

401K and Retirement Plans:

Company match starts right away

Management:

Leadership and growth opportunities available
Responsibilities
Location Payson, Utah
Job ID WAREH018727
Date posted 08/02/2022
Description
Reporting to the Area Manager, this position manages the Mail Order facility, the mail order material handlers, and provides leadership, oversight, and execution of efficient product loading, receipt of product, inventory, depot maintenance, and safety throughout the assigned facility. This position will also be responsible for training and administrative functions.
COMPENSATION - $60,000 - $70,000
DUTIES AND RESPONSIBILITIES
Responsible for managing a single mail order facility, including the day to day supervision of warehouse staff of Material Handlers. This includes proper product handling and safety, warehouse maintenance and employee safety.

Responsible for people management, recruitment, development and on-boarding for warehouse staff including a disciplined approach to recruiting, training, coaching, performance management and retention.

Schedules material handlers' hours based on the volume of activity to meet company standards and ensure customer fulfillment.

Execute and enforce safety standards within the depot. Drive accountability for safe behaviors by coaching 

team members.

Identify and remove risks to create and maintain a safe work environment.

Maintain facility and records to ensure compliance with company standards and all federal, state and local regulatory agencies including employment related postings.

Perform administrative functions such as assigned by Mail Order Lead, Zone Operations Manager and depot leadership, and manages warehouse shifts, time management, and payroll approvals.

Ensure Material Handlers are following the Logistics Method of Operations.

Manage costs associated with building maintenance, shipping and reship costs, and inventory controls.Coordinates the receiving of product with Demand Replenishment Planning (DRP) and Dispatch. Ensures product safety while product is stored and in material handling activities.

Partner with Area Manager, Zone Operations Manager, and Mail Order Lead to meet overall location service and sales goals to reinforce key messages on areas of focus and strategic priority for the business.

Supports neighboring Mail Order facilities with employee training and general support as needed.Some overnight travel may be required.

Ensure compliance with company standards and all DOT, Federal, State and local regulations including with respect to employment related postings.

Execute the Company's Good Warehouse Practices and follow any government regulations concerning EPA, OSHA, food safety and other safety- related regulations as specified in the Company's manual.

Provide coverage and support for material handler vacations and in the absence of a material handler.

Conduct himself or herself and ensure subordinates conduct themselves in a manner consistent with company mission, values, code of ethics, policies, and other standards of conduct.
QUALIFICATIONS
E

ducation: Associate degree or equivalent

Years of Related Experience: Typically 3-5 years of experience.

Knowledge/Skills/Abilities: Effective interpersonal and communication skills.

General knowledge of Quality Assurance, Inventory Record Accuracy, Inventory Control Procedures, Food Safety Requirements, Warehousing and distribution.

Good math and communication skills.

Proven track record driving & executing best in class service

Strong organizational skills

Good working maintenance knowledge of forklifts, pallet jacks, and other equipment in order to detect maintenance problems.

Good working knowledge of truck loading operation, yard operations, and reefer unit type trailers.

Computer literate, able to learn distribution/transportation software systems, have in-depth knowledge of Systems Applications Products (SAP) and have a working knowledge of word processing.

Able and willing to travel.

Assist IS with report changes, SAP authorizations and system outages.

Assist production in clearing Storage locations.

Resolve inventory discrepancies.

Lead or Supervisor experience.

Warehouse experience.

Willing to obtain forklift license within the probationary period.

Good work record.

Effective supervisory skills.

Ability to have overnight travel.

Must meet the Federal DOT eligibility requirements, including appropriate driver's license and medical certification.

Ability to effectively manage multiple projects within financial and timeline constraints

Proven ability to drive outcomes and deliver results

Excellent Driving Record.

Effective Budget Management
Schwan's Home Service is an Equal Employment Opportunity Employer. All qualified applicants will receive consideration for employment without regard to disability, age, race, color, religion, gender, vet status, national origin or other protected class.
Job Type: Full-Time Business Unit: Req #: WAREH018727
Apply
Quick Apply